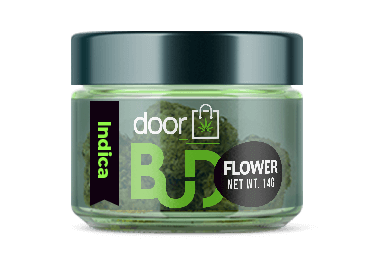 Indica Weed Strain Oakville
Indica is a mild cerebral euphoria that turns into a state of total relaxation. Get it delivered to your door in Oakville.
At DoorBud, we have top-grade, premium indica strains that'll have you coming back for more. You can easily enjoy the most potent, tasty and smooth Indica strains. Get the relaxation that you've been looking for in Oakville delivered to your doorstep.
Cannabis flowers have three main categories, Indica, Sativa and Hybrid. Most online weed dispensaries carry all three strains. At Doorbud, your online weed dispensary in Oakville, you will see an extensive collection of Indica strains to suit your every need. Indica is colloquially described as "in da couch." It means that it has relaxing and soporific effects that'll have you down for the count.
Indica Weed Oakville Same-day Delivery
At Doorbud, our online dispensary offers the best weed delivery in Oakville, we offer the widest variety of Indica strains for your pleasure. If you're looking for pure Indica strains or Indica dominant strains, we have it all for you.
Free Shipping
Free shipping on orders over $150 sent & tracked anywhere in Canada
Genuine Products
Get what you ordered! No Bait & Switch
Free Weed
Free 3.5g added to all orders
FREE Shipping
Free Shipping on Orders over $150
GENUINE Products
Get What You Ordered! No Bait & Switch
FREE Weed
Free 3.5g Added to all Orders
How To Identify Indica Strains in an Online Weed Dispensary?
Anybody (over the legal age limit) can buy cannabis and get high, but the key is to get the right kind of strain that gives you the right kind of high. The right leaf can bring you pleasure, enjoyment, and bliss like you've never had before.
So, how can you identify an Indica flower?
Indica plants are typically strong with broad leaves and dense in texture. You can see many branches densely rounded into each other with huge buds full of active intoxicating compounds. Most Indica plants grow faster than Sativa plants, making them a perfect outdoor plant for northern areas. You can grow them easily and expect a high yield in a shorter time. The effects of each strain vary from person to person and strain to strain. The ratio of terpenes and the number of cannabinoids present also play an important role in determining the strength of the strain.
What Are The Effects of Indica Strains?
Indica strains are mostly known for their relaxing and calming properties. This strain can help users suffering from sleeping disorders and have problems relaxing. Indica mostly has body-related benefits and effects that users find very helpful and calming. However, the type of strain and users tolerance plays an important role in determining the intensity of effects.
We have the most sought-after Indica cannabis strains at our online weed dispensary. Think of DoorBud as your ultimate cannabis gateway to get all your cannabis strain at the most reasonable prices you can find in Oakville.
Indica is a nighttime strain because it induces couch-locking, relaxing and calming effects on the user. Its sedating effects are what users admire the most. The THC levels in indica depend on where they originated. If the plant has grown in a favourable environment, it does not matter which strain it is. It will give the user a body high they won't ever forget. Some indica plants share similar effects to that of Sativa.
Benefits of Using Indica Strain in Oakville
There are many benefits of the Indica strain, so it is one of the most used cannabis strains of all time. There are marijuana patients who find cannabis the one true way to get high and take medicine simultaneously. Effects like relaxation, euphoria, sedation and energy are very common. However, some factors determine the outcome of Indica strain usage, including the user's metabolism, body weight, tolerance levels, and mostly, the amount consumed.
Some common benefits of Indica strains include relaxation, happiness, uplifted mood, increased focus, creativity, and energy.
Medical Usage of Indica Strain in Oakville
People around the world have been using cannabis for therapeutic purposes for hundreds of years. It is still used in many places for medicinal, spiritual, and recreational purposes. Today patients are using it to treat many medical conditions, including symptoms of SARs-CoV-2, among others. Patients use cannabis for various illnesses, including but not limited to anxiety, depression, stress, aches, pains, inflammation, muscle spasms, insomnia, lack of appetite, and more.
Although consumers find indica strain non-threatening, some side effects might show up. These side effects are common among non-experienced users and users who overconsume. Some common side effects of Indica strains include dry mouth, red eyes, and nausea.
How to Select the Best Indica Strain in Oakville?
Selecting the best Indica strain is a challenge since all of them have their unique effects and properties. Moreover, cannabis affects different people in different ways. One strain that works for you may not work for your friend and vice versa. Here are a few things you need to consider before buying an Indica strain in Oakville:
Flavour and aroma. Any strain's flavour and aroma are based on their terpene profiles. You can choose a strain that gives you the flavour and aroma that you prefer. You can also choose the intensity.
Desired effects. Another thing to keep in mind whenever you go to an online weed dispensary or a brick and mortar cannabis store, one thing is the kind of effects you're looking for. Everyone reacts to cannabis differently. You can never be too sure of a strain, so you'll have to try different strains until you find the right one. Try strains with different terpene profiles and cannabinoids.
Potency. Some strains will be more potent than others. It depends on the concentration of various cannabinoids, including THC, a major one. Find out what you can take and go for a strain that provides the right high. If you're a beginner, we recommend going for something with low THC. Once you build a resistance, you can go higher.
Growing method. Growing weed indoors is different from growing it outdoors. You should find out which one suits you best. You can ask your budtender or send us a query, and we'll be glad to help.
Budget. Another thing to keep in mind is your wallet. Indica strains in Oakville go from A to AAAA, and their prices are set accordingly. If you have a tight budget, you need to find something that'll fit within it.